Sphinx continues to blow away everybody who reads it!
Reviews of Anne Garréta's remarkable debut in English, Sphinx, have recently come in from Bookforum ("ingenious translation…Garréta finds endless shades of in between and out of bounds, her characters taking shapes no other text before—or since—has imagined."), BOMB Magazine ("For Garréta, it just may be possible then that the body occupies the space of language as powerfully as its capacity to produce it."—available in the newest print edition onsale now!), and Lambda Literary ("Sphinx is an important contribution to queer literature—fascinating, intelligent, and very welcome.")!!
Emma Ramadan recently read from her translation of Sphinx and discussed the novel alongside author Sarah Gerard and translator/author Ian Dreiblatt on July 1 at Community Bookstore in Brooklyn. Audio from that event is available online now, listen and marvel in the ridiculous beauty of this book and its impact on us all:
Today is the release date for Harper Lee's "follow-up" to To Kill a Mockingbird: Go Set a Watchman. Do the right thing and buy this book from your local independent bookstore. For us Dallasites, that means heading down to The Wild Detectives to get your copy, and plus it's Bastille Day, so join us with The Wild Detectives selling books and hanging out at Bastille on Bishop tonight (we'll also be stuffing ourselves with crêpes as we play pétanque!). So head down to the Bishop Arts District to get your fill of the best French cultural celebration in Texas, and get your copy of Sphinx (that is, if you don't already have yours, and Dallas, if you don't already have yours, best to get yours!!!!), and Go Set a Watchman too.
Congratulations to maestro Ricardo Piglia on winning the Formentor Prize!  TheFormentor Prize was originally founded in the '60s, named after a town on the Spanish island of Mallorca famous for its literary gatherings, and was awarded then to Borges, Gombrowicz, Beckett, Bellow, and others, before dissolving in 1967 under pressure from Franco's dictatorship. It was resurrected in 2011 to award an author for a lifetime's achievement in literature with a cash purse of 50,000 euros (!). The winners since the prize's resurrection in 2011 have been, in order, a laundry list of the greatest authors in the Spanish language: Carlos Fuentes, Juan Goytisolo, Javier Marias, Enrique Vila-Matas, and, now, Ricardo Piglia (information on the prize taken from Wikipedia). In typical American fashion, there was not a single literary media outlet that covered this year's Formentor Prize, but the Spanish press has it covered, check out the articles in El País and El Mundo. (Maybe if our literary press opened their eyes to the rest of the world just the tiniest, I mean the tiniest, bit, then there'd be more interest from American readers in authors who are recognized with these types of lifetime achievement or huge novel prizes in other countries…it's like the Patrick Modiano situation, nobody knows who he is until he wins the Nobel, even though he's won zillions of foreign prizes for years and years & is quite well known internationally; it's not the American reader's fault they don't know about these authors & prizes, it's the "gatekeepers" keeping the gates closed to the rest of the world. Deep Vellum, Open Letter, Archipelago, New Vessel, and our other translation-publishing peers, seek to blow those doors wide open! Ask yourself who's publishing what you read, and why they've withheld the good stuff from you for so, so long!)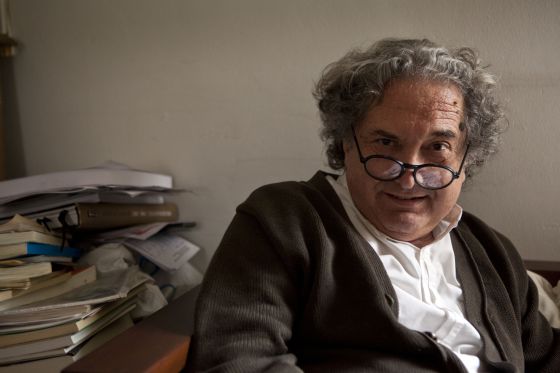 It is an honor and a privilege to publish Piglia's Romulo Gallegos Prize-winning novel Target in the Night in November in Sergio Waisman's transcendent translation, reintroducing the work of Argentina's greatest living writer, one of the all-time greats, one of the canonical writers of all Spanish language literature, in a book that will blow your mind in its precision, its beauty, its power. Target in the Night is a must-read for all fans of Latin American literature, from Borges & Arlt &Bioy Casares to Bolaño & Vila-Matas to Pynchon & DeLillo & Chandler. I'm reading his Artificial Respiration right now, originally published by Duke University Press in 1994, and if you haven't read this book, drop everything and get on it (and then check out Assumed Name, those stories are unbelievable, and his Homage to Roberto Arlt should be required reading for all translated literature lovers). It'll get you so stoked for the release of Target in the Night, too. And in the meantime, read an excerpt from Target in the Night in Literal Magazine here:
During a break in the music, a car was heard driving up at full speed from behind the hill. Everyone saw Durán driving Old Man Belladona's convertible coupe with both sisters beside him in the narrow front seat. Redheaded and beautiful, they looked as if they hadn't gotten enough sleep. While Durán parked the car and helped the young ladies out, the Inspector stopped, turned around to look at them, and said something softly to Saldías. The Scribe shook his head. It was strange to see the sisters together except in extraordinary situations. And it was extraordinary to see them there at all because they were the only women at the race (except for the country women selling empanadas).

Durán and the twins found a place near the starting line. The young women each sat on a small, canvas folding chair. Tony stood behind them and greeted people he knew, and joined in making fun of the out-of-towners who had crowded together at the other end of the track. His thick, black hair, slicked back, shone with some kind of cream or oil that kept it in place. The sisters were all smiles, dressed alike, with flowery sundresses and white ribbons in their hair. Needless to say, had they not been the descendants of the town owner, they wouldn't have been able to move about with so much ease among all the men there. They, the men, looked at the Belladona sisters out of the corner of their eyes with a combination of respect and longing. Durán was the one who'd return the looks, smiling, and the men from the countryside would turn around and walk away. The two sisters also immediately started betting, taking money out of a diminutive, leather purse that each carried around their shoulder. Sofía bet a lot of money on the town's dapple grey, while Ada put together a stack of five-hundred and one-thousand bills and played it all on the sorrel from Luján. It was always like that, one against the other, like two cats in a bag fighting to get out.
It's 100 degrees in Dallas, finally, we're off to edit in the A/C. Until soon, amigos.