Ricardo Piglia's Target in the Night is out now!
Target in the Night, our tenth book, came out last Tuesday, the same day NPR Books ran a fantastic glowing review of the novel, written by Michael Schaub. If you love Latin American literature, from Bolaño to Borges, Boullosa to Pitol, Onetti to Arlt, Labbé to Fernandez, you gotta get your hands on this Piglia! Then read his older works available in English, like Artificial Respiration,The Absent City (both from Duke University Press) Assumed Name (Latin American Literary Review Press), and  Money to Burn (Granta). Piglia is a master, one of the all time greats, and won the 2015 Formentor Prize—previously awarded to Borges, Gombrowicz, Beckett, Vila-Matas, Marías, Goytisolo…you get the idea—for his lifetime's contribution to literature. Greatest living writer in Argentina, meet your new favorite author, who mixes the tropes and structures of detective and noir genres with profound, deep, dark political and philosophical resonance:
In other cool news, the translator of Target in the Night, Sergio Waisman, will be in Texas in early January, and we are hosting the inaugural Deep Vellum Book Club in our new bookstore (more on that below), where Sergio will discuss the inner workings of this amazing novel. Join us, January 5th, at Deep Vellum Books in Dallas, and then on January 6th at Brazos Bookstore in Houston!!
Word started coming out this past week that we're opening a bookstore in our new office space in Deep Ellum! Check out pieces in the Dallas Morning News, Fort Worth Star-Telegram/DFW.com, Central Track, and Shelf Awareness. On December 9th we're throwing a housewarming & bookstore launch party!! Come check out the future of literary Dallas:
About Deep Vellum Books, our bookstore offshoot:
Deep Vellum Books will be located in a 900-square-foot space at 3000 Commerce St., according to the Dallas Morning News. Besides Deep Vellum's books, the store will stock indie-published titles, including fiction, nonfiction, poetry, handmade books and literary journals and magazines, with an emphasis on translation. Altogether it will stock 2,000–3,000 books.
So if you're an indie publisher, or live in Texas and make awesome chapbooks or zines, get in touch with us & send us some books so we can have you in stock for our grand opening!
Speaking of Latin American literature from before, pick up the new issue of REVIEW: Literature and Arts of the Americas (issue #91), published by the Literature Department at the Americas Society, for a remarkable review ofCarmen Boullosa's Texas: The Great Theft by the legendary Dr. Nicolás Kanellos of the University of Houston & Arte Publico Press, plus Juan Villoro has a piece on Sergio Pitol, and Rafael Lemus reviews Sergio Pitol's The Art of Flight. Check it out!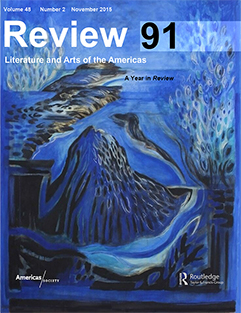 And for those who read & love the TLS (Times Literary Supplement)—like our friend Jerome Weeks over at KERA's Art & Seek—both Sphinx and Tram 83 were reviewed by this prestigious Lond0n-based literary outlet in the past month, further proof that one can actually publish great books in a place like Dallas, Texas and bring the world into dialogue with Dallas from Dallas.
Reminder: subscribe for 5- or 10-books today to get your name in the back of Lina Meruane's searing novel Seeing Red, coming out in February (and to subscribers in January!), or make a year-end tax-deductible donation to support Deep Vellum (your name will be included in the back of the books we publish as our way of saying thanks if you subscribe or donate!). The next book subscribers will receive is Jón Gnarr's The Pirate, the followup to his The Indian, which we published in April, all about how young Jón got into punk & anarchism & how it saved his life, chronicling the birth of the political and philosophical awareness and compassion of the man the world knows and loves today.